Suspended Installation Kit
The suspended installation kits were thoughtfully designed to accommodate expansive high ceilings, while maintaining unparalleled quality assurance coupled with a sleek, minimal, and modern aesthetic.
3 methods of Installation:
Direct Ceiling Mount

Ceiling heights of 12 to 6 feet or less
Allocate about 1 hour of installation time per kit

Threaded Rods and Tubes

Ceiling height of 16 feet or less

Strut Installation

Accommodates limitless heights
Allocate up to 3 hours of installation time per kit
Advantages of Suspended Ceiling Installation Kits:
These methods can be installed anytime, however installation times vary from 1 to 3 hours.
Below are 3 examples of salons using the Suspended Kits.
Click on the image to see gallery.
Bei Capelli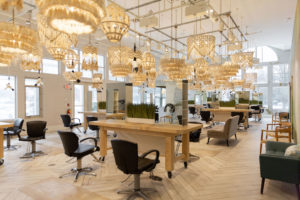 Hard Rock Hotel
[caption id="attachment_2649" align="alignnone" width="300"]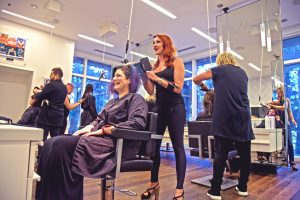 Mandalay Bay[/caption]
Download Installation Instructions
All orders are custom manufactured in the United States. A build checklist will be sent to you to confirm your ceiling height and order details before production begins.
Allow 4-6 weeks for delivery.
Call 508-845-4911 or use our Contact Us page for more information.